Source here: http://tnp.sg/news/story/0,4136,144840,00.html

The New Paper accused that people are not using Buangkok Station. I want to ask the paper: If my school is in Ang Mo Kio, would I take a direct bus to school or take a train and travel 15 or more stops to reach the same destination? It's really simple. The Mass Rapid Transit, as its name suggests, is a form of transportation that allow people to move great distances at a fast speed. Of course when I go to Sim Lim or other places further from home then the train will be used.

The average ridership of 2600 isnt bad when you take a closer look at the station.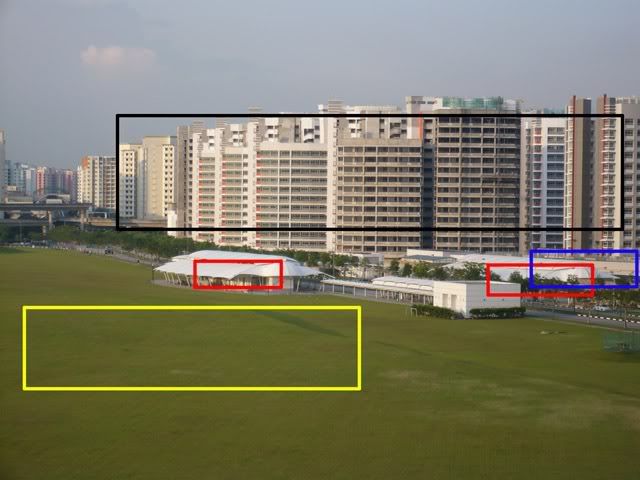 The Black Square contains newly completed/ completing HDB blocks. These are likely to be occupied a few months to a year from now, so ridership will probably increase by a few hundred.

Red Squares are SBSTransit leased shops. They consist of the convenience shop Majfa and 2 tuition centres. The kids that come for tuitioning is usually fetched by their parents via car. So of course ridership wont increase much.

Blue Squares are future local shops.

Yellow Square is open field. Every weekend, people play football in that area. Dont think they will take a train to come to this open field.

Until the entire place is populated, it is not hard to understand why Buangkok Station is not profitting, isn't it. But as a Private Organisation, you can raise the fares, citing increase in operating costs... ... which you have done. So please do not flame the fire started by the TNP and continue your station operation.

Whenever I read articles like this, it makes me wonder if this sunny island has no real news to report at all.