After lying low for so long, I decided to blog about Kanon again. Although I don't intend to do a long screenshot summary for each of them as it will take a longer time, I can at least summarise each episode and clear the long backlog...

Episode 12 - A Stange Waltz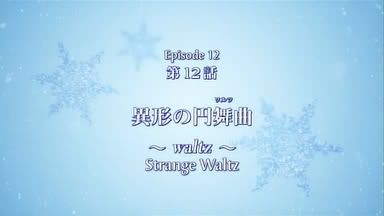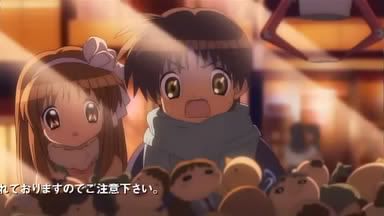 Yuuichi dreamt about a past event where he tried to get a mini-doll for Ayu but failed to do so. He then woke up and found Ayu trying to go to the toilet. After scaring Ayu about ghosts and monsters, he had to lead Ayu there as she's too afraid to go by herself. They then spent some time at the balcony to look at the stars and Ayu commented that she wants to grow up as beautiful as Nayuki. Yuuichi then told her that they are all of the same age. He then teased her that she need not worry about that, as it has many advantages such as: riding on a train using children's fare, wearing the same clothes all year long and eating a happy meal without feeling guilty.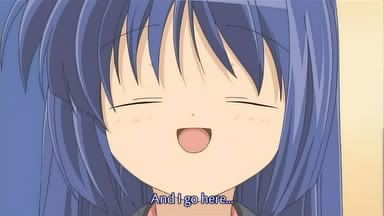 The next day, Yuuichi tried to wake a sleepy Nayuki but failed to do so. After in the morning, Nayuki has to rush to school coz she's late for the meeting. Yuuichi then proceeds to school by himself, asking Ayu to go to school too. Ayu however replied that her school is free to go and leave at the student's discretion.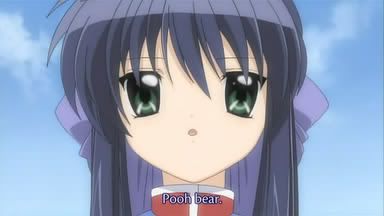 On the way to school, Yuuichi saw Mai and Sayuri. When he asked Mai whether she remembered that today's the date of the dance, she replied "Honey Bear". A puzzled Sayuri and Yuuichi wondered what Mai's saying until Yuuichi remembered that he was the one that asked Mai to substitute "Honey Bear" for "Yes" and "Rocky Racoon" for "No". An embarrassed Mai then moved away from Yuuichi.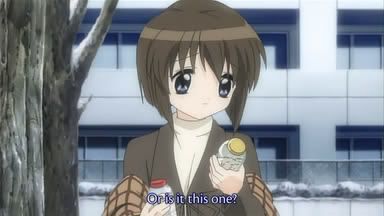 During the recess, Yuuichi met Shiori and gave her the ice-cream. Upon her insistence, Yuuichi ate half of the ice-cream. The result? A stomachache.... Shiori then took out a ton of medicine trying to find painkillers for stomach but failed. Yuuichi then resorted to doing headstands and told Shiori about the dance. A somewhat sad Shiori told Yuuichi to enjoy in her stead. On the way back to the classroom, Shiori's classmate called on Yuuichi and enquired about Shiori. It was here that Yuuichi knew that Shiori's illness was'nt as simple as it seemed.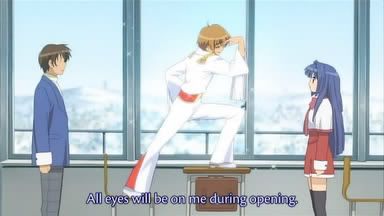 At the lunch break, a hyper Jun took out his dance suit and invites Kaori to the dance, but Kaori turned him down. Kaori then went out to the tuckshop. Yuuichi stopped her and asked whether she had a sister called Shiori but Kaori said she was the only child... After this Yuuichi went to the stairway to have lunch with Mai and Sayuri.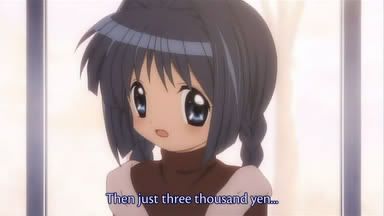 After school, Yuuichi went home and rested for a while. He slept and dreamt about the follow up to the doll. He borrowed money from Nayuki and got the doll for Ayu. A grateful Ayu thanked him...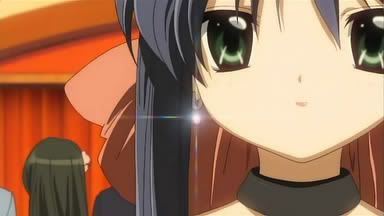 At the dance hall, Yuuichi checks on his appearance once more and went in looking for Mai. When he finally found Mai, he was awestruck by Mai's beauty and made a comment which made Mai very embarrased that she "chopped" him on the head. Yuuichi and Sayuri then took turns making Mai embarrassed until Sayuri's friends came and called her away. Yuuichi and Mai then met the School's Student Council President, Kuze. He appears to be a unfriendly guy who warned Mai not to try any "tricks". After eating some food, Yuuichi danced with Mai.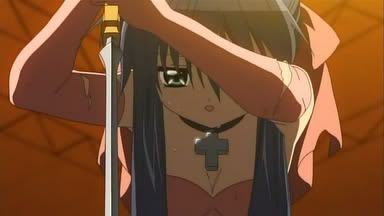 The students were all awe-ed by Mai's beauty and grace and Mai starting getting rave reviews but at this moment, the monsters came. Sayuri was hurt in the process. Mai then went beserk upon seeing Sayuri lying on the floor. She took her sword and damaged a lot of furniture in the process.