My first anime blog posted from raws! Maybe I should seriously enroll in a Japanese Language School. Actually, because I watched the Toei Ver, that's why I can catch the gist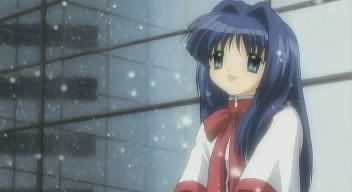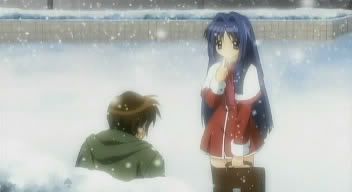 The show starts with U1 waiting for Nayuki at the railway station. Nayuki was late by 2 hours, and apologized to U1. She then asked U1 for her name. U1 played along by saying "Nanako", "Jiro", "Oh no, I forgot" before stating her name.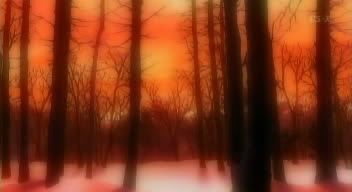 As with the Toei version (I suppose the game also did this), at the start of every every episode, a girl will talk about a dream and stuff which will eventually paint out the events that took place 7 years ago. The voice is Ayu's.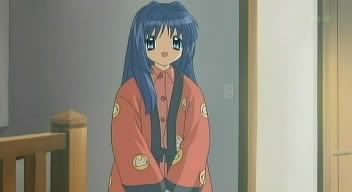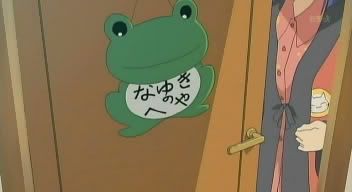 The next day, U1 woke up to see Nayuki searching for the school uniform. Nayuki greets U1 and chided U1 for not greeting her back. (Seems like Nayuki is really well mannered) Nayuki asks U1 whether he knows where her uniform is. U1 then pointed out isn't her uniform with her mother? U1 then murmured to himself about the wierd design of the Uniform(Seifuku), within earshot of Nayuki, which made her reply "It's not wierd!"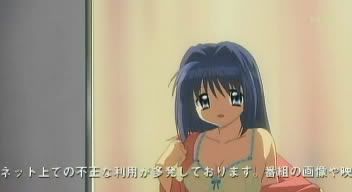 OMG! This one's similar to one of Mikuru's!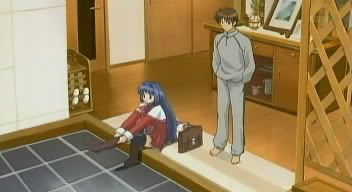 While Nayuki is changing, U1 asked why is she going to school, since its supposed to be winter holidays. Turns out that she is in the Track and Field Team(leader btw), and she has to go to school today. Akiko(Nayuki's Mum, his Mum's sister) asked her whether she'll be late, and half-jokingly she replied that she'll make it if she ran 100m in 7 secs.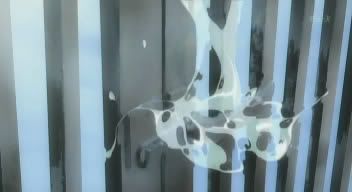 Hot water for warming the door handle!

Before she leaves, U1 asked her to bring him around the city. (He really forgotten this place...)




Some snow-shoving...




Tired from shoving ice for the whole morning, when Nayuki returned from school and said bring him around, U1 was reluctant...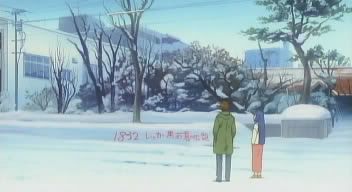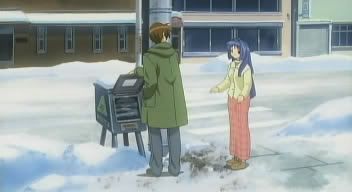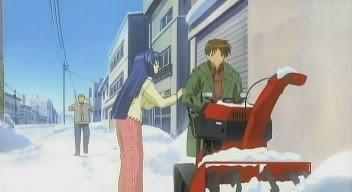 (Ah~ familar music. This was in a chibi game I played featuring AIR and Kanon Characters and probably the original game had it too.)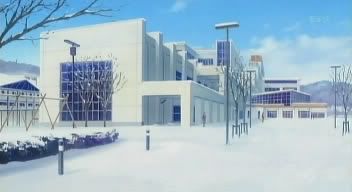 That's the School. Apparantly the school has 2 buildings, one is the newer one and the other is the old bulding. U1 will be studing here starting tomorrow.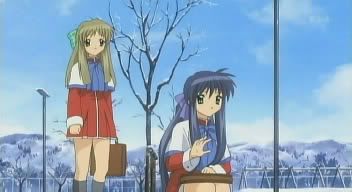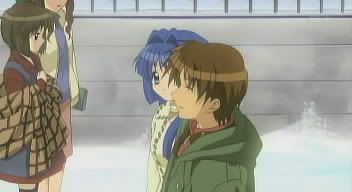 In the school, Sayuri found Mai feeding a dog. Upon seeing Sayuri, the dog fled...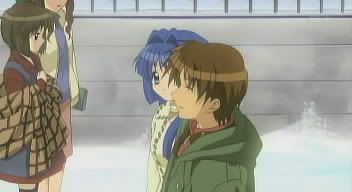 As Nayuki points out the hospital to U1, a girl walks past them. she's shiori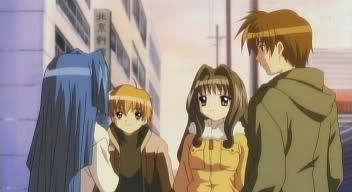 The couple reached a road junction and Nayuki mentioned that she wants to go to the stores to buy some groceries later on. There they met Kaori and Kitakawa, her classmates. Kitakawa made a remark saying Nayuki's also dating like him..., making Kaori reply that we're just classmate?




Haha...servant indeed. omg i gave them too much screentime




Then, U1 had a flashback about the past, but it dissappeared quickly. U1 then accompanied Nayuki to the hills, trying to make U1 remember about his life here. However, U1 doesn't remember anything at all other than a nostalgic feeling.




Kitsune. At the sight of it, Nayuki's gone デレデレ. Seems like Nayuki love foxes. But the fox ran away. U1 then commented that it's a wild fox and it probably won't let people touch it, making Nayuki retort that this city's foxes are special.U1 and fox arc will explain more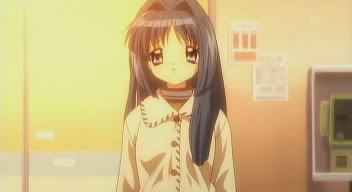 At the store, Nayuki wanted U1 to go with her but U1 said it was fine waiting outside for her.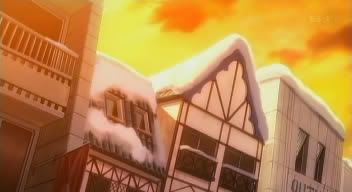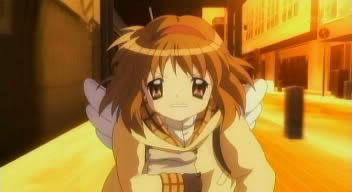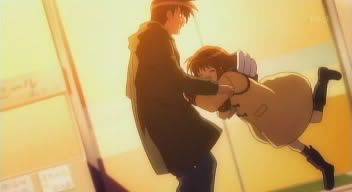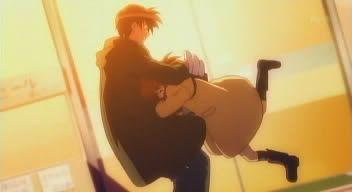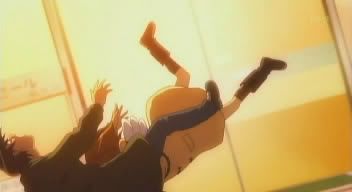 Now, enter the dissappearing, reappearing Taiyaki loving girl! ah~ another nice bgm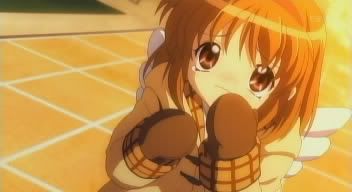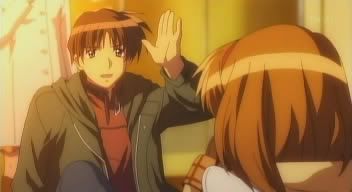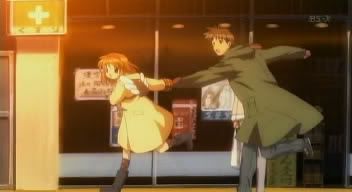 Without giving much exlpaination, the girl drags U1 by her hand and ran into a cafe.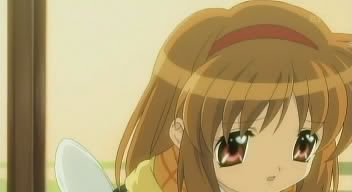 Finally, in the cafe, she explains that she's being chased. As he was together with her, he was also in "danger" and thus she dragged him along... A waitress asked for orders but the girl "shhh..." her off.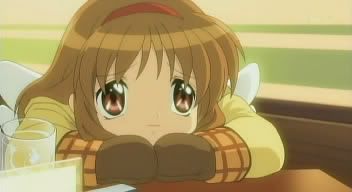 Turns out that she bought Taiyaki at the Taiyaki Store but forgot to bring money, so she had wanted to defer the payment, but...




So she ran away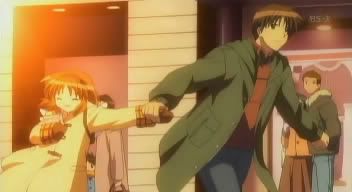 So U1 dragged her back to the store, paid the money for her and apologized for her.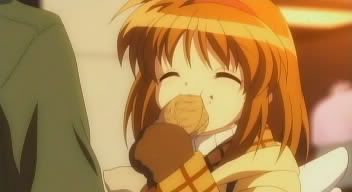 Everything settled, the two were strolling along and the girl saying Taiyaki's are best eaten fresh! when U1 noticed wings on her backpack and asked about it. The girl doesn't seem to know it and spun around and around...until he told her to stand still and look back. U1 then said that she's a wierd person.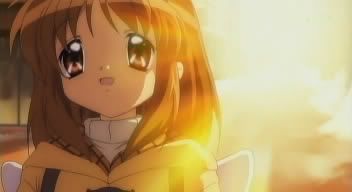 The two then exchanged names before parting. She's Tsukimiya Ayu. When she heard U1's name, she seems shocked. She promised to meet him again some other time, which made U1 having a flashback again.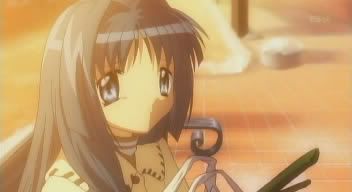 Having made Nayuki waited for 30mins, U1 ran back to see a dissapointed Nayuki who said:"うそつき".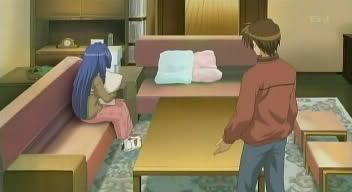 Nayuki did forgive him later though, saying that they were even now since she made him wait at the station.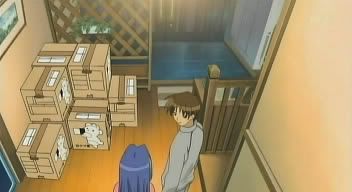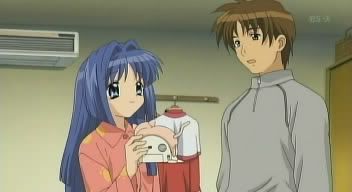 Tomorrow is the start of their new term and U1 was worried about not waking up on time. Nayuki said she'll lend him one. She had tons. U1 asked whether her hobby is collecting alarm clocks to which she replied nope. ^^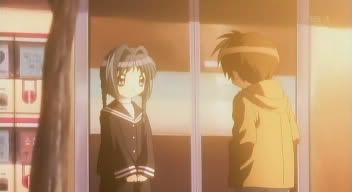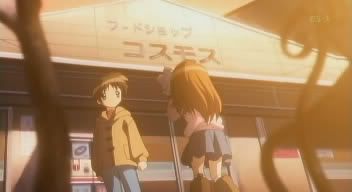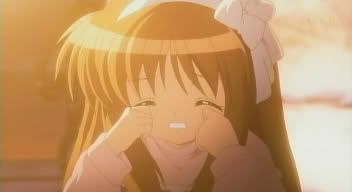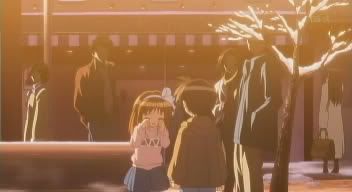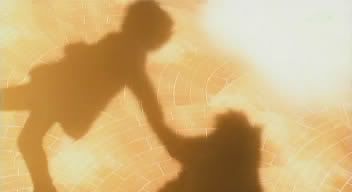 Some flashbacks of his past. Very important.

--End of Episode 1--

Impressions:
As what I said before, graphics is considerably better than the one made by Toei. The characters are considerably less chibi than the Toei version, and the original seiyuus also changed their tones a little bit, I think. Overall this episode is slow paced and takes its time introducing each characters and the city where U1 lived 7 years ago. Every main character gets some screens in this episode, though they weren't introduced to the viewers. Whereas the Toei's ep1 focus seems to be very centered on Ayu, Kyoto's ep1 gave a more general view of the city and U1.

Tomikazu Sugita voices this version of Kanon, unlike the previous one. The tone of the voice is very similar to Kyon except that Kyon is definitely much more negative. In a way, his voice is better than the previous seiyuu's one, in my opinion. But the anime drawing bears too much resemblence to Kyon. (Or maybe I'm still suffering from the effects of Haruhi-ism)