At the Police HQ, the Police is having a conference with "L" on "Kira". Since the open challenge by "L" to "Kira", the police received many telephone calls of people claiming to be "Kira", but it can be said that all of them are fakes.



Based on the information, "L" deduces that "Kira" is 1. A student, 2. He has a sence of Justice and 3. He wants to be some God.



This guy reports that the number of Crimes especially in Japan has gone down. He's unsure whether what "Kira" is wrong.



Meanwhile, Ryuk asked whether Light is worried at all, now that "L" and the police is catching him.



His father had returned home and the family starts dinner.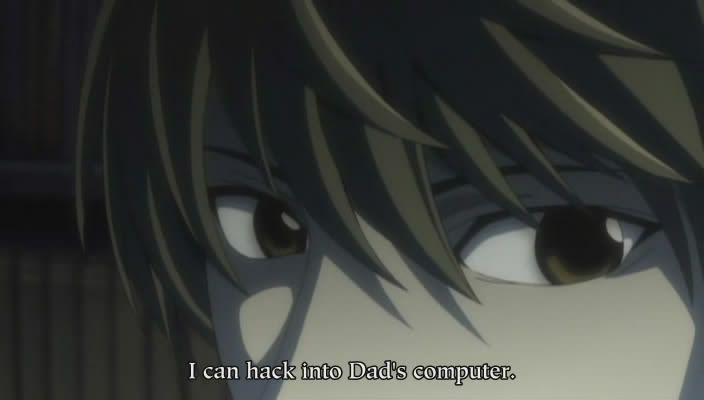 Later at night, Light shows why he is so confident that he can win: He can hack into his father's computer and access all police restricted codes.



With new intelligence aquired, Light starts to plan for his counterattack.



In the 2 weekdays, 23 criminals died, causing "L's" theory that "Kira" is a student to be voided.



The Police became confused, but "L" calmed them down and asked them to make futher investigations on how criminals are reported in Japan.



"L" now deduces that someone has access to police information and sets about finding a way to get the data of all the police.



Which is what Light wanted: to have "L" and the Police fight each other.



3 members quited. Due to fear!



While Light is at night classes, Ryuk noticed a man who seems to be following them.



"L" gathered information of all the investigation team members and tries to find out who is more likely to have leaked out the information. (Too bad for Light, he wants the 2 to slog it out and it didn't happen.)



Ryuk told Light about the man following them, making Light anxious to find out who is following him. Ryuk told Light that if he exchange eyes with Ryuk, he will be able to see the name of the perosn and his lifespan. The price is: half of Light's remaining lifespan. Light refuses and tries to think of a strategy to get the man's name.